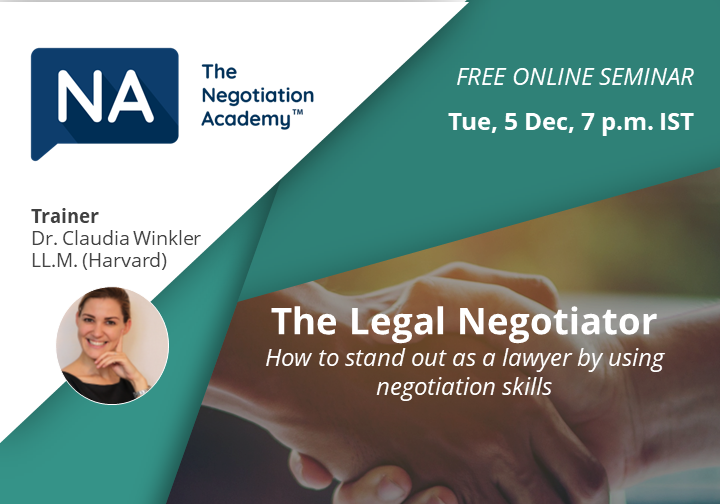 The Negotiation Academy is organizing a free online webinar on December 5, 2017 at 7 pm (IST), introducing law students to the skills required to successfully stand out once they enter the legal market.
Negotiation is part of every lawyer's daily routine and effective negotiation skills are what sets apart the great from the good. Yet few of us have ever been taught. Join us for this webinar where Dr. Claudia Winkler, a Harvard-educated negotiation trainer, will give an insight into how negotiation skills are a crucial skill for your legal career, what skills and tools you can learn right now to become a more successful negotiator, and how to enhance and leverage your negotiation skills to stand out in the competitive legal market.
Date and Time
Tuesday, December 5, 2017 at 7 pm (IST)
Trainer
Dr. Claudia Winkler is an Austrian lawyer who has trained lawyers, entrepreneurs, judges, public defenders and students in negotiation and mediation throughout the world, including the US, Europe, Africa, Australia and Asia. Proposed for a tenure position in Austria, Claudia left on a Fulbright scholarship to the US to start her career in Negotiation at Harvard Law School. After graduating from the Harvard Negotiation Project, she finished her mediator education in New York, worked with the New York International Arbitration Center as the ADR Development Coordinator and started guest lecturing at universities in the US and abroad. Back in Austria, Claudia started to train lawyers at law firms and major conferences. Concurrently, she is the Director of the IBA-VIAC Mediation and Negotiation Competition (CDRC Vienna) and spends about half of her year training negotiation skills to law students in India and across Asia.
Registration
There is no registration fees for this webinar. Sign up for limited spots at:
https://lnkd.in/fgWBYvq (Pleas
For more information see www.necademy.com or write to bhumika@necademy.com.