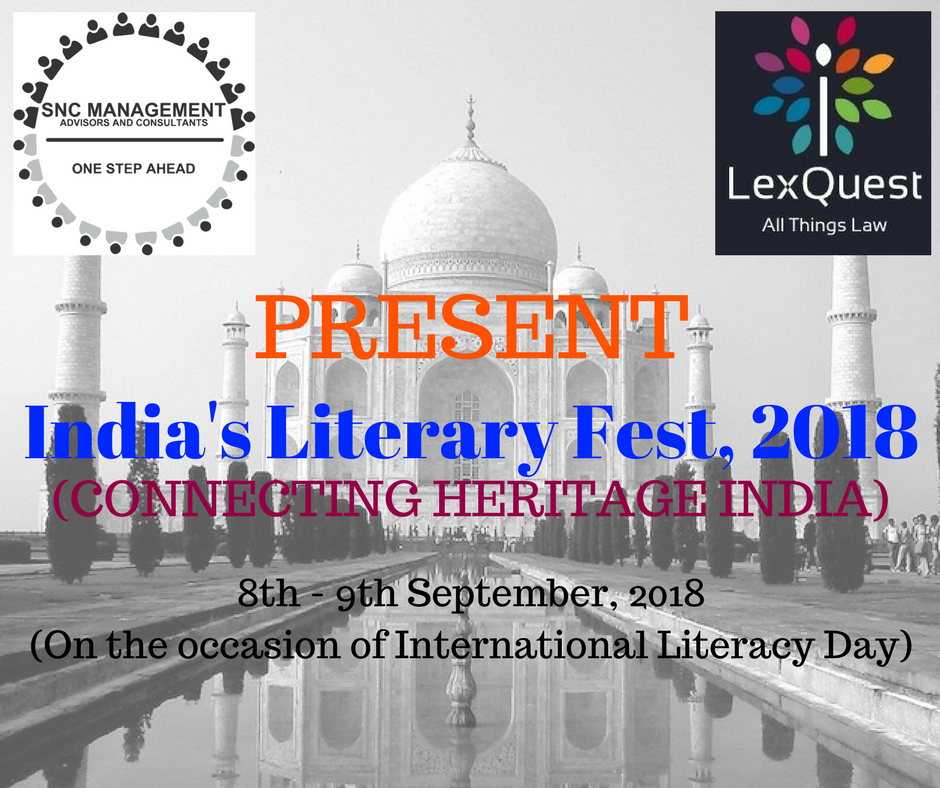 SNC Management: Advisors & Consultants and LexQuest: All Things Law, are proud to bring to you, the first of its kind, Literature Fest, on the occasion of International Literacy Day, 2018!
SNC-LEXQUEST, ILF, 2018 is a celebration of Connecting Heritage India. Change is a constant in independent India and we celebrate the effervescence of this change across the length and breadth of our Country. Whether it's the attitude of our youth, the energy portrayed by our civil-society, the fast-paced technological breakthroughs or the dynamic interaction between generations, we witness the Heritage of India in its truest form. We are the world's youngest country which is in the midst of an era of intellectual churning, wherein our youth is brimming with new ideas about the society and politics. An active citizenry and the power of youth, which are the biggest strengths of this promising democracy, which we intend to showcase in the first edition of SNC-LEXQUEST, ILF 2018. We bring together, the country's leading authors, thinkers, influencers and change-agents to talk, debate and chronicle their views about Connecting Heritage India and to express their ideas on the challenges that we, as a growing economy are accosted with. 

SNC-LEXQUEST, ILF 2018 is a festival of books and ideas, wherein we aim to showcase talks and performances, panel discussions, keynote addresses and competitions which exhibit the hopes, anxieties, achievements and aspirations, of what has been called the biggest and boldest democratic experiment in history. In this edition of SNC-LEXQUEST, ILF 2018, we examine different aspects of Connecting Heritage India. Is India at a cultural crossroads? Is dissent incompatible with nationalism? Are we forever destined to fight with Pakistan? Is social media the main platform for youthful rebellion? Or is it simply turning into an attack on democratic ideals? How can the 21st century children relate to our epics? Should the secular State also acknowledge traditional dharma? Is politics lagging behind social change and does India need a new political and economic blueprint? Should the dialogue process in Kashmir be followed with a new dialogue with Pakistan? Some of India's brightest minds and writers will be discussing these questions and many more at SNC-LEXQUEST, ILF, 2018.

Our Speakers & Guests have been selected from a wide array of motivational thinkers, influencers, change-makers and academicians, et al. Since we are celebrating Connecting Heritage India, our authors and speakers will not only deliberate about the political and social history of our Country, but will also engage in dynamic conversations about the changing landscape of our potential as an exemplary nation; how can we move beyond the shibboleths of the past and embrace change, how do we create a culture wherein change is accepted with a welcoming and positive mindset, thus helping us shape a progressive society? The talks and discussions at SNC-LEXQUEST, ILF, thus will not only reflect on the past, but will be centred around creating a future that may yet be unbeknownst, but is reckoning transformation: the role of technology, the influence of media, the power of citizen participation, the rise of the Millennial, from speeches to tweets, towards smart cities, to bringing about changes in the election procedure and, to deal with our political differences and plurality as a nation at large. We bring to you a think-fest with a difference, a conclave reflecting the pulsating heartbeat of India and the twists and turns of its shifting social moods. It is a Lit Fest imbued with the spirit of the Republic, as we celebrate and embark on a journey of Connecting Heritage India.
OBJECTIVE
The primary aim of organising this Literary Festival is to engage the audience in a discourse concerning Law and Society. We seek to bring out leaders and global change-makers from varied disciplines. Participating in this forum, will help the students realise their dreams and professional aspirations.
VISION
We are moving forward with the vision to intensify the zeal and substantial participation of all young minds, who have set for themselves the aim of excelling in the field of literature. Thus, this fest promotes and provides a platform, to all such visionaries, to take a step ahead and contribute in the scholastic development of not just the institutes, but also the entire nation. SNC Management & LexQuest aim to provide a platform for the enthusiastic students, to help them develop a sense of participation and to encourage them to come forth and express their hidden talent in a fine manner. This way, students from all across the nation get an opportunity to come together at a common platform to showcase their talents.
Looking forward to hosting all of you! Come join us, in this grand celebration of books, cultures, ideas and experience our heritage in its entirety! 🙂
Register Now! Click Here to access the Registration Form.
Note: Once you have registered for the event, we will send across the payment options to you.
You can reach out to us via:
Email: info.lexquest@gmail.com
Facebook: https://www.facebook.com/lexquest
Twitter: https://twitter.com/LQ_LexQuest
Google+: https://plus.google.com/u/0/+LexQuest
LinkedIn: in.linkedin.com/in/lexquest
Contact Numbers: +91-7042068202, +91-9929451140
SNC Management: Advisors & Consultants
Email: info@sncadvisors.com
Facebook: https://www.facebook.com/SNCmanagement/
Youtube: https://www.youtube.com/channel/UCbZMM2iWa4zrLqDSz79NuVQ?view_as=subscriber
Google+: https://plus.google.com/111651146832775201539
LinkedIn: https://www.linkedin.com/in/snc-management-892493155/
Contact Numbers: +91-7838474837, +91-9582491663
You can access the Event Brochure here: